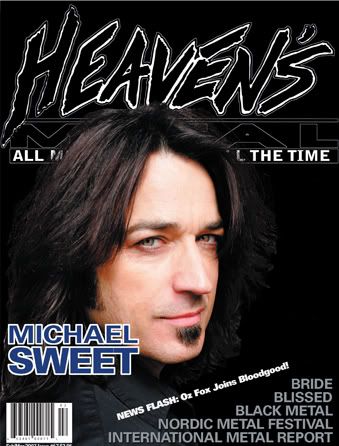 Michael Sweet | H-I-MInterviewed By Chris Beck
Stryper is arguably the most successful Christian rock band of all time. They always seemed to be in the spotlight during the '80s as evidenced by the gold records, sold out concerts and videos that aired constantly on MTV. After a long hiatus, Stryper got back together and released the album Reborn last year. Michael Sweet has now followed that up with the recent release of his praise & worship album Him, putting Michael back in the spotlight with appearances on At Home Live and TBN, amongst others. We talked with Michael about these recent releases, his thoughts on if Stryper is only in it for the money, and what 2007 has in store for him and the band.Chris Beck:
You recently released the album Him. Tell us a little bit about the recording of that album.
Michael Sweet:
It's been a long process and in the making for a longtime. I started leading worship at my church about five years ago, and having not grown up in the church, I wasn't familiar with most of the old traditional hymns, just a handful of them-traditional hymns like, "How Great Thou Art" and "Amazing Grace." Of course, I knew those - "Christ the Lord is Risen Today," the stand-bys - but most of the old hymns I had no clue as to the melodies or how they were sung or the lyrics or anything. So, leading worship I had people coming up to me every Sunday asking if the following Sunday if I could learn a hymn, and the hymns that they were asking me about and asking me to learn I had no idea what they were talking about. So, I went out and I bought a hymnal and I familiarized myself with the hymns. Just sitting in my studio one night reading through the hymnal, I was reading a lot of these incredibly powerful words and they just bowled me over. It was unbelievable- hairs standing up on my arms reading some of these words, because these words were so powerful - again, not knowing what the music is. So, I just pulled my guitar off the wall and started strumming chords and writing chords, and it began there. As I said, it was a long, drawn out process. It began with me writing some chords and melodies to some of these words. I started recording them in my basement studio - just a guitar, an acoustic guitar, and then I added some electric guitar, and then I added vocals, and it went from that to what it is now, which is certainly a lot more produced as far as parts go. It's a real low budget record; not a lot was spent on it. I did it myself. I just basically did it here in my house and didn't work with a lot of people. I worked with a guy named Kenny Lewis and a few other musicians, but it wasn't your typical record done through a label, where so many people have their hands on the project itself. It wasn't done that way.
Chris Beck:
So how did you go about selecting the songs? Did they become obvious as you looked through the hymnal?
Michael Sweet:
They did. What I began doing was...the first song that really hit me was a song called "Take My Life and Let it Be." I was so moved by those words. That was the one that led me to pick the guitar up and start writing chords and a melody to those lyrics. Then, as time went on and I started doing this more and more with different words, I would start to write this music and then find the lyrics that would fit the phrasing and the structure of the song, if that makes any sense. Then I kind of wound up going down that road on a number of songs as well. So it reversed, coming from the music and placing the lyrics with the music, versus coming from the lyrics and placing the music to the lyrics. So, it was a little bit of both throughout the process. It was really cool, though; it was a different way to make a record. A lot of fun. I had a blast doing it. The funniest part about it was not having a bunch of people telling you how to make a record. It was just cool; there were no guidelines or deadlines or pressure from people at a label saying we need this and we need it like this and we need it at this time. It was just so awesome to sit there and take my time and let the musical juices flow.
Chris Beck:
Since its a bit of a different album, is this an album you would envision touring for, maybe playing a couple of songs here and there for some churches? What are your plans there?
Michael Sweet:
I did some shows, not many, but I did a few. We went out as Stryper. We performed some churches, as well. I did a few of the songs there.
Chris Beck:
Let's talk about Stryper a little bit. The band recently came out with the Live in Puerto Rico DVD. Are you happy with how that turned out?
Michael Sweet:
You know what? I am happy with how the performance and the concert turned out - the footage and the audio. I'm not happy with the fact that it was just such an odd situation with that DVD, because it was in limbo for such a long time - just kind of hanging out there, not knowing if it's going to get released, get shelved, not knowing really what to do with it. So, there wasn't for the longest time any budget to do any more with it. We had some high expectations and high hopes to add behind the scenes footage - us hanging out on tour; possibly some videos ... all kinds of stuff. To be frank and truthful, the money just wasn't there. It costs a lot of money, you know? As it is, we were in about 40-45,000 dollars, and we did it on our own. It's real tricky when you're doing stuff on your own. You can't just go out and spend your mortgage. Life doesn't work that way. We wanted it to be more than it is, but we're very happy with what is there - extremely happy. I can only hope that everyone else who purchased it is happy as well. Down the road, we do plan to add to it and do a full on, full blown release.
Chris Beck:
So what's the biggest change in your mind between ...you recently released Reborn and Him ...What's the biggest change in the music industry now versus when Stryper released its first record?
Michael Sweet:
Oh, man...well, the biggest change - obviously it's apparent to everybody - is the whole internet versus CD; music sales on the shelves versus music sales online. I think we are not heading there - we're there. Everyone buys their music online, or most everyone. Anyone with a computer, with the downloads and everything I think it's really taking its toll and affecting- although people pay for downloads nowadays most of the time - I think it's really affecting especially the labels, who depend upon selling CDs and the package itself. So, CDs are kind of a thing of the past, or certainly will be in the near future, I think.
Chris Beck:
I better sell my collection before ifs too late (laughs).
Michael Sweet:
Its kind of scary, you know, in the next 4, 5, 6, 7years... What's the format going to be (laughs)? It's like, wow, interesting, crazy...but it is taking its toll on especially the labels. Is that a good thing or a bad thing? I don't know. I think labels make too much money, anyways, and the artist only makes a buck. $1.10, $1.20, $1.30, or $1.40 if they're lucky, per unit. Labels get the rest.
Chris Beck:
What would you say to those people that say, "Stryper...they only got back together because of the money?"
Michael Sweet:
Well, I would say to them that if it was just because of the money, we would have hung it up after the '03 tour, because we wound up losing money. We didn't make any money; we did a tour in '05, and we went in the hole $24,000. Reborn has sold 32,000 units - we haven't seen a penny for it. Except the up front money, you know - the record budget money, advance money - that's recoupable, and we haven't seen any royalties. My point is, we haven't really made any money. If we did this for the money, where's the money? So that's kind of funny, and certainly not true.
Chris Beck:
When you guys were out on tour for Reborn, what was your sense of the audience's reaction? Were they there to enjoy the show, which certainly is understandable - they paid to see you guys - or did you have a lot of opportunity to minister from the stage or perhaps after the show?
Michael Sweet:
Yeah, we did. We always have the opportunity to minister before the show and after the show. We make it a point to go out after every show and hangout, sign autographs, talk to people. Hopefully, if we have the opportunity and someone comes up and wants to talk to us about something serious or have us pray over them or for them, we do so. I mean, that's really why we're there. It's hard sometimes, because when you're really tired ...you've got to get on the bus and travel 500 miles and get up and play four nights in a row, following that show you just did. Sometimes you're like, "Oh, man, I'm beat up. I don't want to do this," just because you're beat. But we've got to constantly remind ourselves that. "Look, this is what we do. This is why we're here. This is why we do it, and we've got to get off our cans here and get out there and do what we're called to do." And that really is to share the Gospel. Not just to go out there and rock and put on a show and exit stage left. It's to share the Gospel. Not just share it, but you know, water those seeds, and try to encourage people to get into church and read their Word, and help people on you know, be there for people, people that are struggling; hopefully we can help them aside from the music and the stage. But yeah, to answer your question, we've always been about that, and we throw out Bibles, and we pray at the end of every show. It's basically the sinner's prayer; it's basically an altar call, you know, people coming forward. I mean, that's the most important part about all of this to us, and my gosh, if people don't see that, if there's anyone out there reading or listening who don't agree or don't see that, gosh, I don't know what else there is to say, you know, because this has been our lives, you know? We're all in our forties, mid-forties, and it's been our lives since we were teenagers and will continue to be our lives. We love the Lord and we want to share that, and we're willing to sacrifice and do whatever it takes to make it happen.
Chris Beck:
You guys had a fairly unusual show scheduled for a little while. In September, you were supposed to play a show with the band Slayer. The show actually got canceled, but heading into that, what were your thoughts about that and would you consider doing something like that again?
Michael Sweet:
Well, it was pretty wild, because before we took the show, we were debating whether or not we should go do it. Back in '85-'86, we wouldn't have even batted an eye twice about it. We took shows like that left and right, grinning from ear to ear, you know, going on stage and doing them, no question. But nowadays, being older, we have families; we don't want to go out there and be fools and put ourselves in jeopardy. So we just thought, "Well, gosh, is this something we should do?" And we thought, "Yeah, you know what, it is." We prayed about it and talked about it, and we all decided, "Yeah, let's go do this." We'll just really be careful and be prayed up and go. So, to find out that we're into this, and we're hearing all the comments on certain forums and what not, and we're thinking, "Oh, man, this is going to be heavy duty." And then it fell apart, for whatever reason. Slayer wound up pulling out; I really don't know why they pulled out. I'm sure, giving them the benefit of the doubt, I'm sure it was because they had maybe other commitments, or something else that was more of a priority came up. No big deal. We just felt once they pulled out, there was really no need for us to do it, because really we took it on because they were on the bill. We wanted to go. The challenge of going and standing up on the stage and sharing the Gospel with a bunch of Slayer fans - it was like we were ready and willing to take that on, that's kind of what we do. You know, the fact that they weren't on the bill anymore, we just thought, "Well, we could still go do it, but"
Chris Beck:
You might have a lot of bitter Slayer fans yelling at you the whole time.
Michael Sweet:
I don't know. But we just felt at that moment, the minute we found out they weren't doing the show, we knew that it just wasn't really something we should do. We wound up having other things, other commitments anyways, so it just worked out. But we would love to do some more shows or maybe even a tour with Slayer down the road. We'd totally be game for that.
Chris Beck:
How do you balance, at this point in your life, touring and the music industry with your family and with God?
Michael Sweet:
It's hard. You have to sacrifice, certainly. Aside from sacrifice and being away from your family and your everyday life at your home, and your neighborhood and your town, you gotta stay rooted and grounded and you've got to really sacrifice your time out on the road to devote to God. It's real easy to get out on the road and get caught up in the road life- living out of a suitcase, town to town, going to malls, going to movies, and just kind of goofing off.
Chris Beck:
No real responsibility.
Michael Sweet:
None, except checking your e-mail and playing. You've got to keep that discipline, and encourage one another. That's really the key- is encouraging one another, not forcing, but just encouraging each other to pray. (As though to the other band members) "Hey guys, everyone's watching a movie maybe they shouldn't be watching" I don't mean a porn movie, but something that might not be too edifying and something we shouldn't be watching. "Hey guys, why don't we skip the movie and go back to the back of the bus and talk and pray and read some Word." Encouraging each other to do that constantly, because if we don't, no one will take the initiative. So, we're always encouraging each other to do that, and we wind up going off a lot, up to the top balcony of the hotel, to the back of the bus, in a park, wherever ... we just kind of get away. We would love to go out and tour if it's good for the family, if we could bring our families and certainly at least bring them out from time to time and travel with us, because we can't go out like the old days and be gone for two or three months straight. That just doesn't work. That doesn't work even if you're single (laughs).
Chris Beck:
Do you feel like you have fulfilled the Lord's calling on your life with the time you've spent with Stryper and in your solo work, or are there still things left to do?
Michael Sweet:
I think there's so much left to do, with number one being so much growth left for me to go through. I feel like I'm just a baby in Christ and I've got so much to learn, and I unfortunately learn the hard way by making the same mistakes over and over and over again. And I'm just sick of it; I wish I could just get it. I want to get it. I desire to get it, so that's the cool thing about it. I'm thankful for that. Have I done everything? No, absolutely not. There's so much left to be done, and God's given me maybe not the most talent in the wor1d or the most abilities in the world, but He certainly has given me a heart after His own will, passionately, and I want to follow that and just hope for the best, and hope that in some small way what He has given to me touches someone out there. Gosh, if it's one person or if it's a million people, whatever. I can go to my grave saying, "Well, I tried. I tried to reach some people, and I think we did it."
Chris Beck:
What do you see being the plans for yourself and for Stryper in 2007?
Michael Sweet:
Definitely a new record. We're getting ready to start on a new record over the next couple of weeks. We're going to start doing pre-production.
Chris Beck:
Are the songs written already?
Michael Sweet:
I came home like a madman. I've had a bunch ideas floating around in my head for the last four or five or six months, and I came home from L.A. and Las Vegas bout two and a half weeks ago and just pulled out my guitar and just went crazy, and started writing, writing, lyrics, lyrics, lyrics, and I wound up writing in the past couple of weeks, completing about 11 songs. I'm still writing working on songs. I hope to get another two or three in the can and then I'm going to just kind of do rough demos of those and we're going to go out and do pre-production, rehearse as a band in the next three weeks - December 11, approximately. We're going to go for about nine or ten days in Vegas. That's the plan, and then take the holidays off and then hopefully start recording sometime around the first or second week of January.
Chris Beck:
That's great! I didn't realize it was going to be so soon. I realize it's early in the process, but if you can give the readers of Heaven's Metal a slight taste as to the direction you guys are heading, what would that be, musically speaking?
Michael Sweet:
Well, I'll tell you this ... I change my mind a lot. That's one of my weaknesses, or it could be one of my strengths - I don't know. But I do change my mind a lot, because I don't think things through. Something I said - I opened my big mouth and said on the forum on-line, so it's all over the place - is that the next record's going to be real heavy. Heavy, heavy, heavy... I said this, and now I'm the king of eating crow here, and I'm thinking, "Oh, man." It's going to be heavy in a sense that it's going to have that edgy Stryper edge to it. It's going to have that. It's not going to be heavy metal of 1985, but it's going to have edge and kick.
Chris Beck:
Wow, you've got me excited about it now. Looking back, which songs do you constantly go back to as being your favorites and why?
Michael Sweet:
Well, there's certain songs that just never get old when you play them live. There's only a handful. Some of those songs are obvious favorites, like: "To Hell With the Devil," "Soldiers Under Command," "Calling on You," "Free," "Reach Out." Those are just songs that not only the crowd gets more excited about live, but the band gets more excited about live. There's just something about them. And then a lot of songs on the new album: "Passion," "Reborn," "Open Your Eyes" - these are songs that just really were fun to play live and unfortunately didn't get the attention really they kind of deserved. It's sad, so sad, to know that so many people don't even know about the record. There's a number of songs, too, that we would like to never do again. Songs like - I'll speak for myself - that I'm kind of burnt out on: "Makes Me Wanna Sing." People love it though, live. I don't know, I could do without it, no sweat. There's a few others like, uh, you know, I don't know... "Sing-Along Song," because we've played it to death every tour since 1985.
Chris Beck:
You mentioned that you lead the music service at your church. Is that right?
Michael Sweet:
I did. I don't at this very moment, as we speak. Still going to church; I'm going to a different church now in Rockland, about 45 minutes from my house and we like it. It's real difficult to find a church that we're comfortable in or that we really love here in our area. There's not a lot of Christian churches; (there are) a lot of Catholic churches - which is great, awesome, nothing against Catholic churches. But, we come from Calvary Chapel; Raul Reis was our pastor. There's just a few Calvary Chapels here in this area, and we've got to make the drive. I'm not leading worship these days, but I tell you, some of my days when I was leading worship were the best. I will never forget, and it really took me to a whole other place.
Chris Beck:
So, when you led worship was it pretty rocking or pretty laid back?
Michael Sweet:
Pretty laid back. Most of the time it was just me. We had a home church. We met in our home and we would rotate with three other homes, so there were four homes total. We met here and there were about maybe, at times, 15, 16, 17 families meeting in our home. I would walk out with an acoustic guitar and go through five or six worship songs, and then the pastor started playing with me, and then Hillary Bird, who plays violin would join us and people just started joining in, and it kind of grew from there. But it was real laid back. It wasn't rocking drums, bass, electric guitars, that kind of thing. It was more of just an acoustic, unplugged, very personal worship service ... real nice, really cool.
Chris Beck:
Well, Michael, any last words for the readers of Heaven's Metal?
Michael Sweet:
Well, the readers of Heaven's Metal and, of course, Mr. Van Pelt, all you guys, have been so supportive from day one to now, and I can't thank you guys enough. It's been really encouraging to see that support. I just want to thank you guys for your time, and for standing behind us when a lot of other people did not and don't, and we're appreciative, we're grateful, we're thankful. Again, I can't say enough.